President Yan Met the Friends of Shanghai Branch of Xinhua News Agency and Liberation Daily
Editor: Liu Chang, Tang Jie
On June 30th, President met the friends of Shanghai Branch of Xinhua News Agency and Liberation Daily so as to have in-depth communication in terms of current popular issues of economy, culture and education, etc.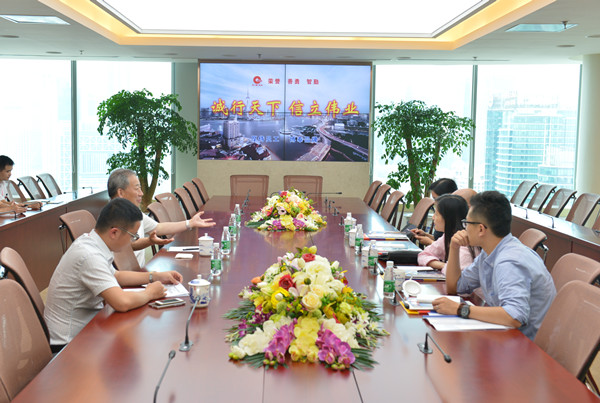 At the meeting, both sides discussed social responsibility, the recent top concern, during the communication with Pan Haiping and Liu Ying, Director of News Information Center and Director of New Media Center of Shanghai Branch of Xinhua News Agency.

From the viewpoint of President Yan, the responsibility of entrepreneurs lie in the treatment to both enterprises themselves and their employees instead of making charity and show. Five Arm Systems would build "Olive" system and its staff would achieve their life long career with honor and pride, and they would become the real owners of the company from occupation to career, from employee to shareholder, from treatment to honor, which had positive impact on the group of entrepreneurs and even society.

Meanwhile, President Yan hoped to move himself, others and society with shiny, sweet and kindhearted mentality. As a private corporation entrepreneur, President Yan always concentrates on country glory and nation dignity, which was highly approved by Pan Haiping.

Afterwards, when President Yan accepted the interview from journalists of Liberation Daily, in the opinion of President Yan, he expressed Pacific Construction Group would develop from home to abroad with BT and BOOT mode, to be specific, it would take an active part in infrastructure investment and construction in Europe so as to open up overseas market. What's more, President Yan had confidence in improving international images of Chinese enterprises including social responsibility, legal consciousness and sustainability, etc.

When it came to educational reform, in terms of educational industry, President Yan thought private companies should participate in serious competition of market economy. As a result, only powerful ones could survive after that. "The educational industry could be either industry or common welfare." In the days to come, President Yan was filled with confidence to build individuality educational industry with five world first-class systems including genius, talent, elite, president and leader education to his best capability.