President Yan Met Mr.Hultin, US Former Vice Navy Minister, and His Team
Editor: Liu Chang, Tang Jie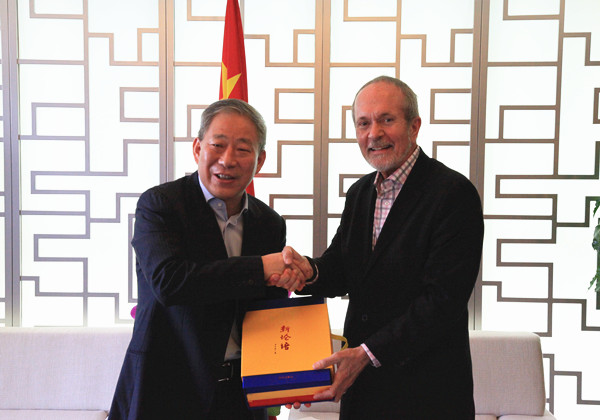 On June 26th, President Yan met Mr.Jerry MacArthur Hultin, the Dean of Technology Institute of New York University, US Former Vice Navy Minister and Mr. Albert, an international consultant. Li Jingna, Organizing Committee Chairwoman, Deputy Secretary General of Huatuo CEO Committee, and Ji Wei, General Manager of Foreign Affairs Department extended warm welcome and participated in the meeting.

At the meeting, both sides had deep communication in terms of educational industry. President Yan highly praised for the outstanding achievement in society and humanities acquired by New York University, and he indicated he would put emphasis on the establishment of first-class university worldwide. Moreover, President Yan laid stress on the promising prospect of educational industry in the future due to rapid development of economy and enormous population in China. Correspondingly, Mr. Jerry MacArthur Hultin couldn't agree with President Yan any more, and he invited President Yan to cooperate after his introduction of the establishment of New York University in the world.

When it came to the future of wisdom economy, as far as Mr. Jerry MacArthur Hultin was concerned, future intellectual talents couldn't become true experts or leaders unless they are supposed to be not only equipped with broaden scientific and professional knowledge including leadership, innovation as well as cultural comprehension, but also be in possession of globalization perspective. President Yan extremely approved his point of view and he showed his confidence in having extensive cooperation with New York University since he believed Huatuo CEO Committee, the highest level civil idea bank, would have incredible impact on economic and social development in China.

In the harmonious communication, President Yan expressed his friendship and admiration to the people of US, and he illustrated Chinese nation historical gene of peace devotion as China became a commercial empire based on prosperous economy and trade but military supremacy in the past. Accordingly, he indicated the wish that Sino-US friendship could be inherited from generation to generation.

President Yan was confident to mention that Chinese would certainly be the group of the highest respect worldwide, even if the improvement of civilization of Chinese would take a heavy burden and embark on a long road, as Chinese first-class entrepreneurs stand for precursors and guides with excellent qualities.

Before the meeting, Li Jingna, Organizing Committee Chairwoman, Deputy Secretary- General of Huatuo CEO Committee, had an introduction of main business, enterprise scale, project overview as well as the industrial layout of Pacific Construction to the visitors. Mr.Jerry MacArthur Hultin was interested in advertisement videos and gave a high evaluation of the corporation.