Five Arm System First Season in 2014-2015 Board Meeting Held
Editor: Zhang Haoran
On October 5th, Huatuo CEO Forum Five Arm System 2014-2015 was held in Huai'an. Founder of Sutaihua Conglomerate, chief contributor of New Analects of Confucius, President of Pacific Business School Yan Jiehe, Chairman of the Board of Huatuo CEO Forum, Chairman of the Board of CPCG Yan Hao, Board Chairmen of all Five Arm System platforms, CFOs, and senior managers attended the meeting and it was moderated by President Xue Mei.
In the meeting, President Yan Jiehe elaborated the theme of this meeting— "do what you are able to". Through analyzing the current economic status of China, he pointed out the great opportunity that Five Arm System is confronting. Afterwards, managers of Five Arm System made their work report and year end goals.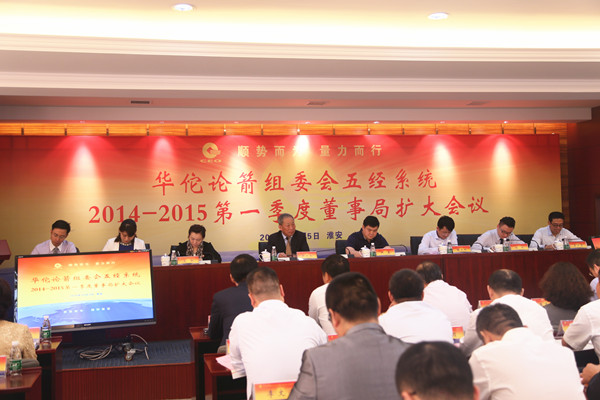 In the afternoon, Vice Chairman of the Board of Huatuo Construction Lu Wanyou, CCO, CHO of Susun Group Zhao Fangchao reported the current status of "Nine centers, One Base and One Home". They also reported the status of Jinze Shanghai. President Yan expressed that as the project of Jinze is developing, our dream "my university and my city" is approaching us.
In the meeting, senior managers of Five Arm System reported the projects in Guangdong and in-detailed status of the completed work in the first season. Problems encountered in the operational work were listed by senior managers and solves one by one by President Yan with great patience.
Chairman of Yan Hao in the next phase reemphasized the importance of operational work. As he put it, "Operation is the soul of an enterprise. Without operation, management and projects are like the castle in the air". He hopes that in the coming years, kind competition among five arm system should be encouraged. Besides, he requested that each group should take objective elements such as location differentiation and weather influence.
President Yan Jiehe made a conclusive speech in the final section: the operational work is ubiquitous and management is meticulous. Operation is dynamic and invisible, and it is comparatively difficult. Management is static and visible and it is comparatively easy. The operational quality of Five Arm System is beyond comparison, which demonstrates that the future of Sutaihua Conglomerate is beyond measurement. All of these are benefited from the "positive energy of Sutaihua Conglomerate".