The 2014-2015 First Quarter Business Construction & Management Working Conference of Susun Construction Group
Editor: Liu Chang, Zhang Haoran

On Augest 22nd, the 2014-2015 First Quarter Business Construction & Management Working Conference of Susun Construction was held at the headquarter of Susun Group. Zuo Fan, Vice Chairwoman and CEO of the Board of Directors of Susun Group, Kan Wenbin, CFO and Chairman of the Board of Supervisors of Susun Group, Qian Guangyu, Chairman, CAO and CEO of the Board of Directors of Susun Construction, Zhang Lingbo, President of Susun Construction, along with senior management and department heads attended the conference, which was presided by Wu Linwei, COO of Susun Construction.

At the meeting, department heads of Susun Group respectively reported working situation at last stage and prescribed objectives in the next quarter. Afterwards, the presidents of subordinate groups of Susun Construction reported accomplished work in July, the deadline of each task and made expectation towards the mission in the next quarter. The chairmen of the board of directors of subordinate groups of Susun Construction reported current market condition and put forward their solution towards existing problems.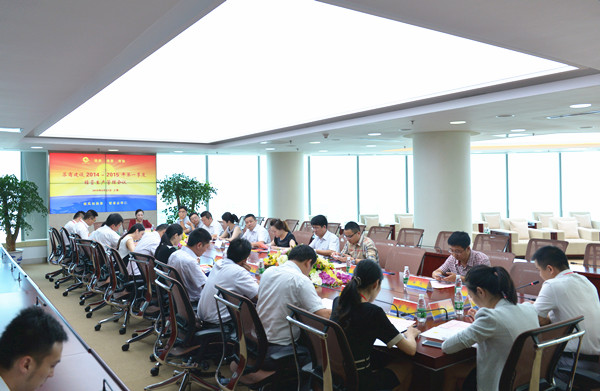 Qian Guangyu gave measures of making corrections on existing problems of every department during working period and made arrangements as well, to sum up, he put emphasis on several demands of project management as follows: to begin with, local relationship maintenance should be further enhanced. Secondly, each department is supposed to stand together. Last but not least, project security, including the safety of construction material, mechanical equipment and builders, must be seriously paid attention to. Eventually, he hoped everyone to hold the opinion which goes that "Dare to think, to implement and to bear."

Kan Wenbin emphasized the principle that "more implementation with less presentation", and he hoped all the employees of Susun Construction to learn from management pattern on the basis of their technical proficiency marking the engineering example of Five Arm Systems.

Finally, Miss Zuo instructed each department to conduct work in the next stage with mutual efforts by the combination of both practical and pragmatic aspects.